MOTIVEWAVE MOBILE APP
The Most Advanced Mobile Trading App Available
-- For iOS and Android, Phones and Tablets
The MotiveWave Mobile charting and trading application complements our desktop application and is broker neutral — with current support for 6 brokers — allowing you to easily trade and monitor futures, stocks, forex and crypto from wherever you are.
Our Mobile app supports multiple broker connections within the same Workspace, or you can create separate Workspaces for each broker.
Additional brokers may be added in future releases.
MotiveWave does not include data.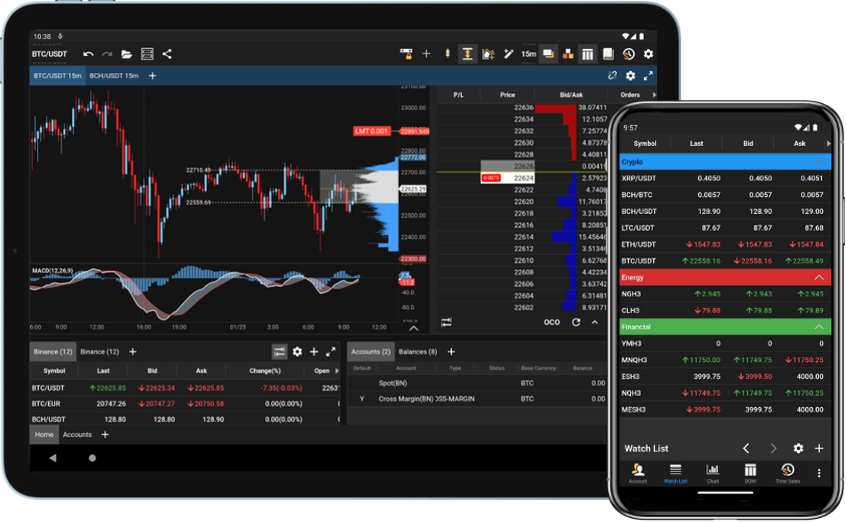 The MotiveWave Mobile Trading App is available to download:



Supported Devices

The MotiveWave Mobile trading app supports two layout modes for iOS and Android:
Phone
Optimized layout (portrait mode) that shows a single screen at a time.
Tablet
Docking framework for displaying multiple docks on a single screen

(charts, watch lists, account info, order book, Time/Sales and Depth of Market).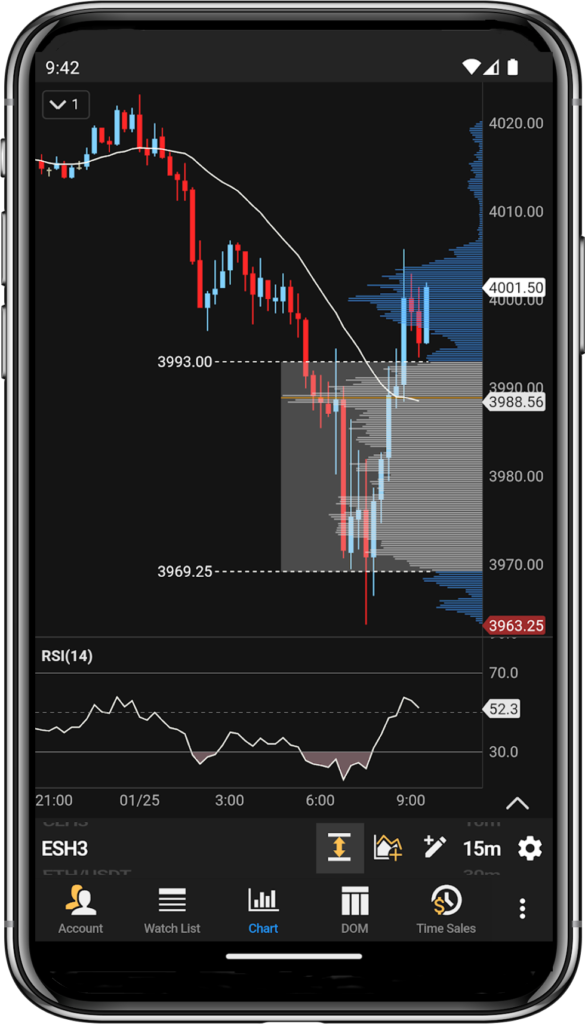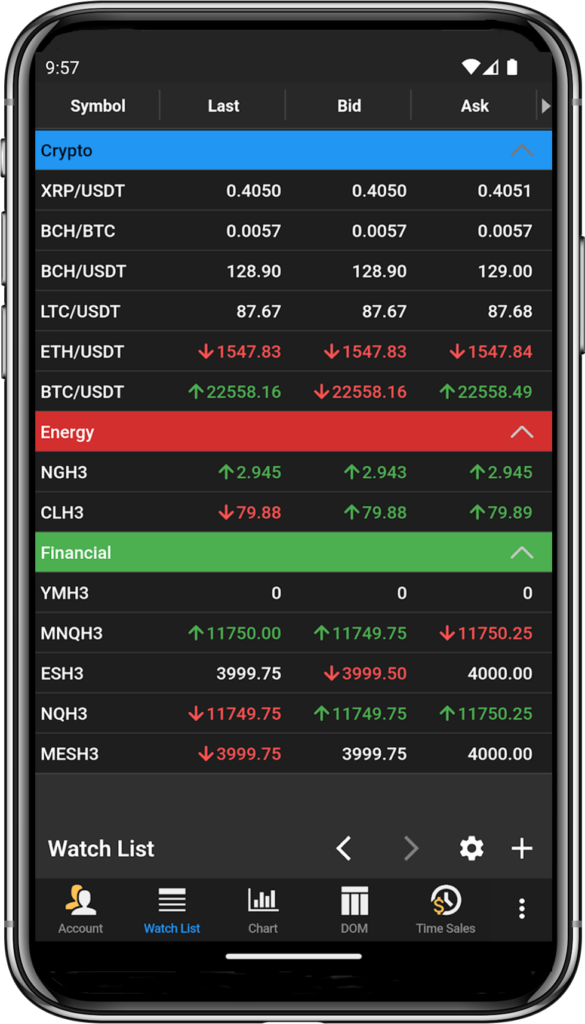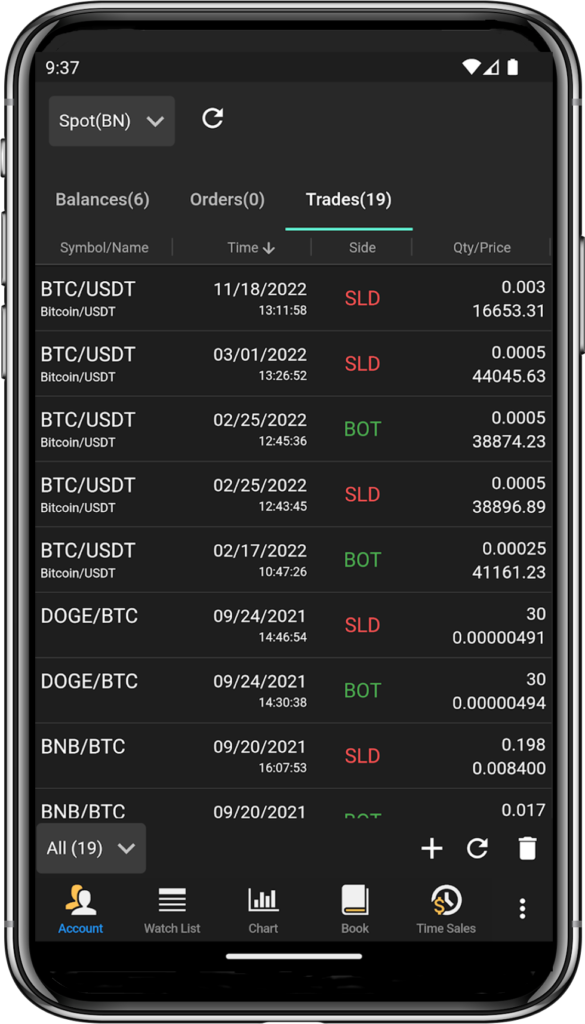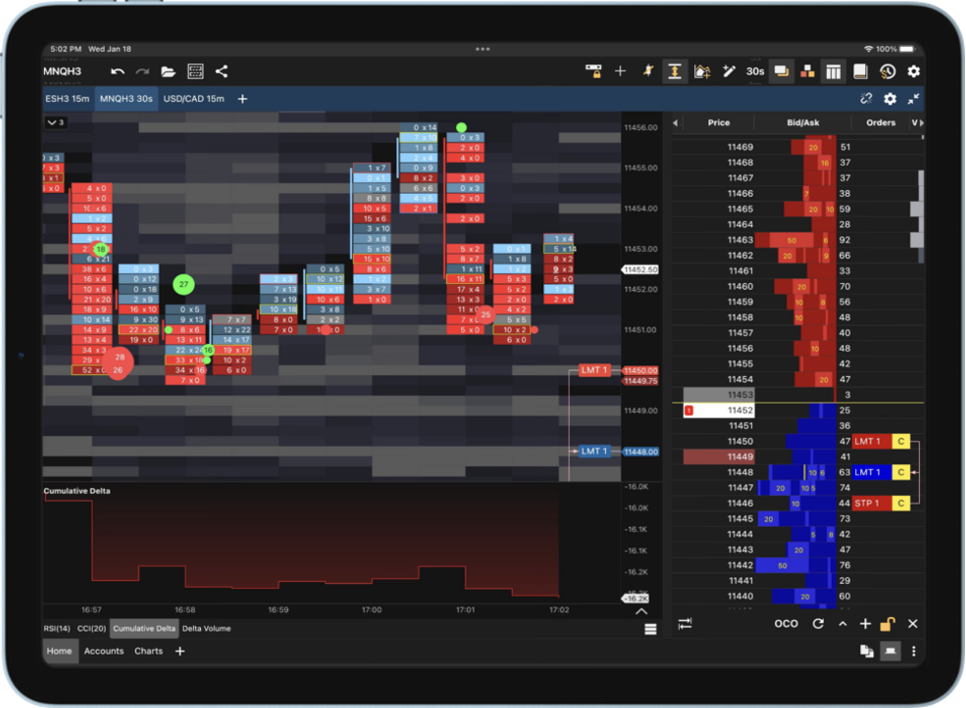 The MotiveWave Mobile trading app is available in 4 different editions to meet your charting and trading needs.
As an incredibly feature-rich trading platform, here are some of the highlights showing the capabilities that you can find in our mobile trading app:
Trade directly from a chart or the chart axis

Trade from the Trade Panel

Trade from the DOM
Advanced DOM (Depth of Market)
Track recent trades at the bid and ask

Track pulling and stacking

Volume profile (with separate bid and ask volume profiles)

Market by Order, which will display individual order sizes in the book (currently Rithmic only)

Full Market Depth beyond 10 levels

Position in Queue (currently Rithmic only)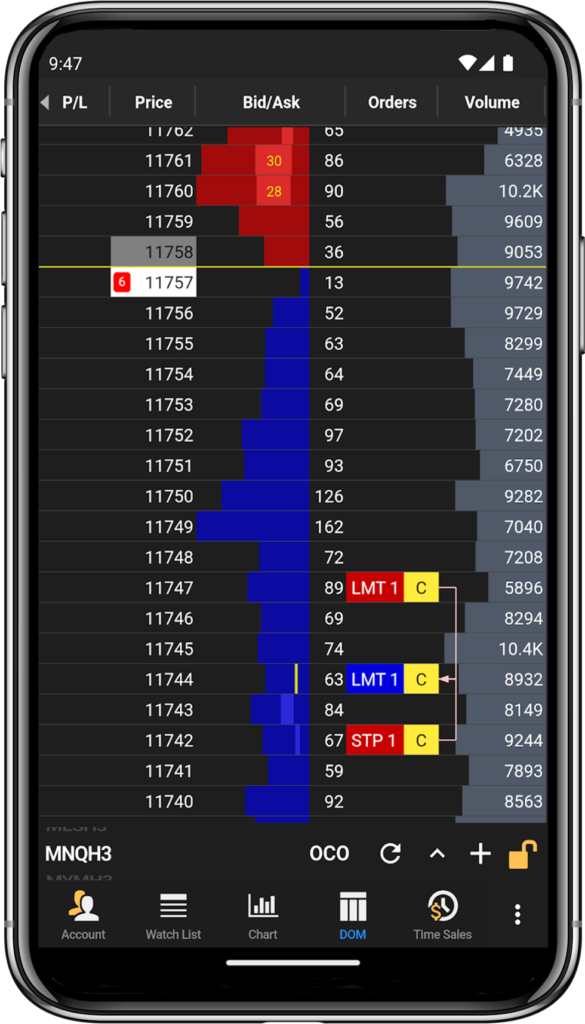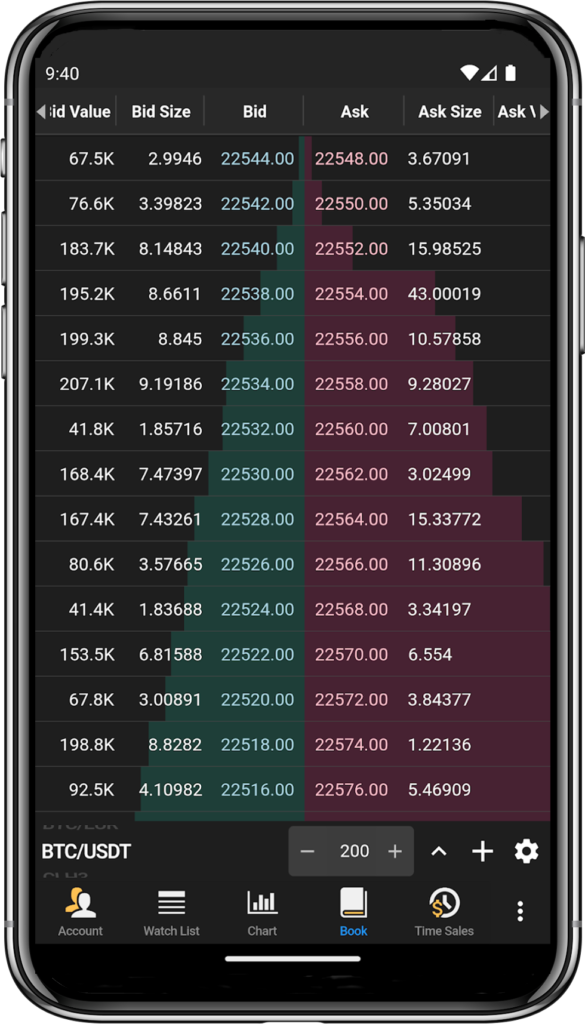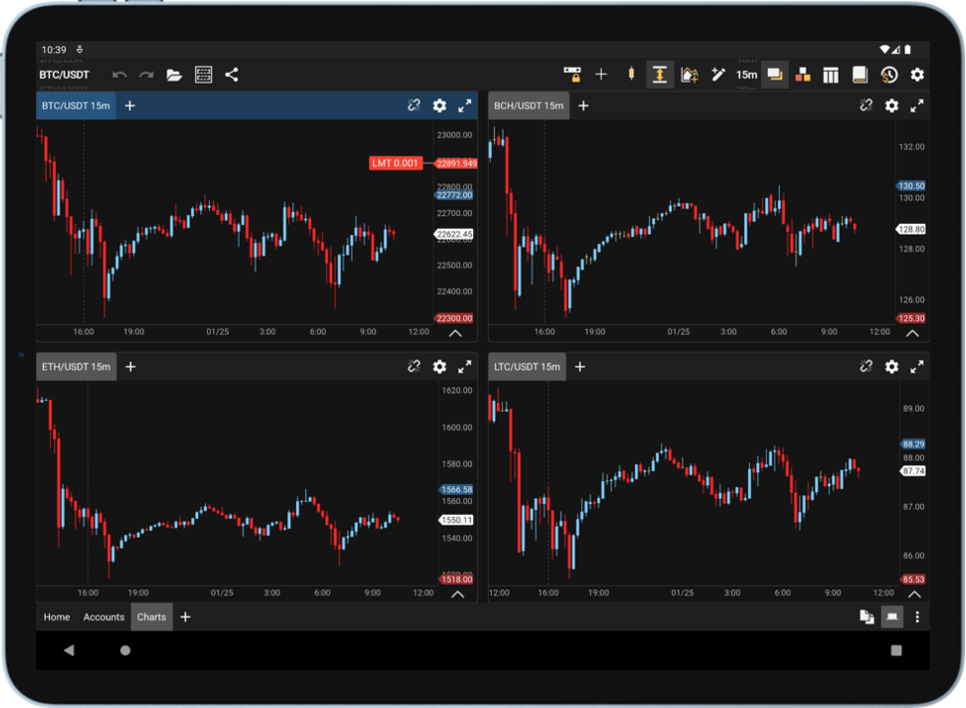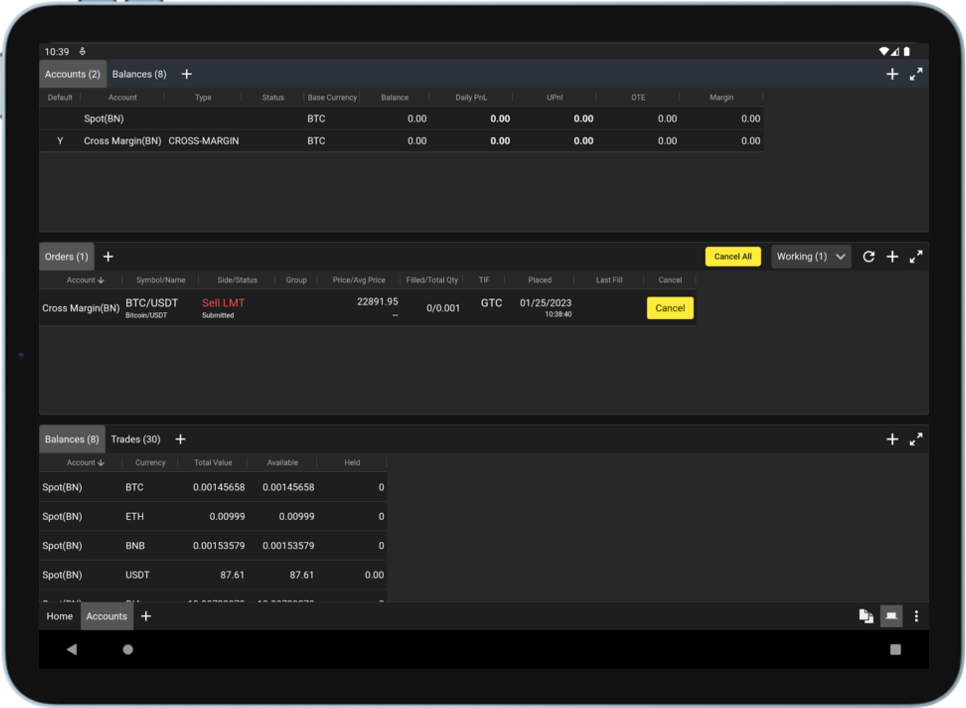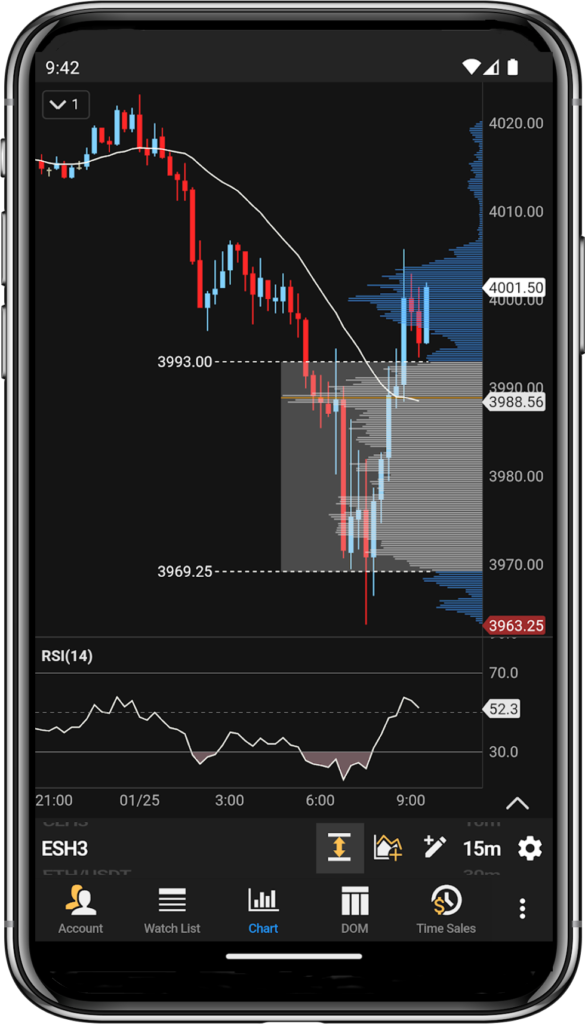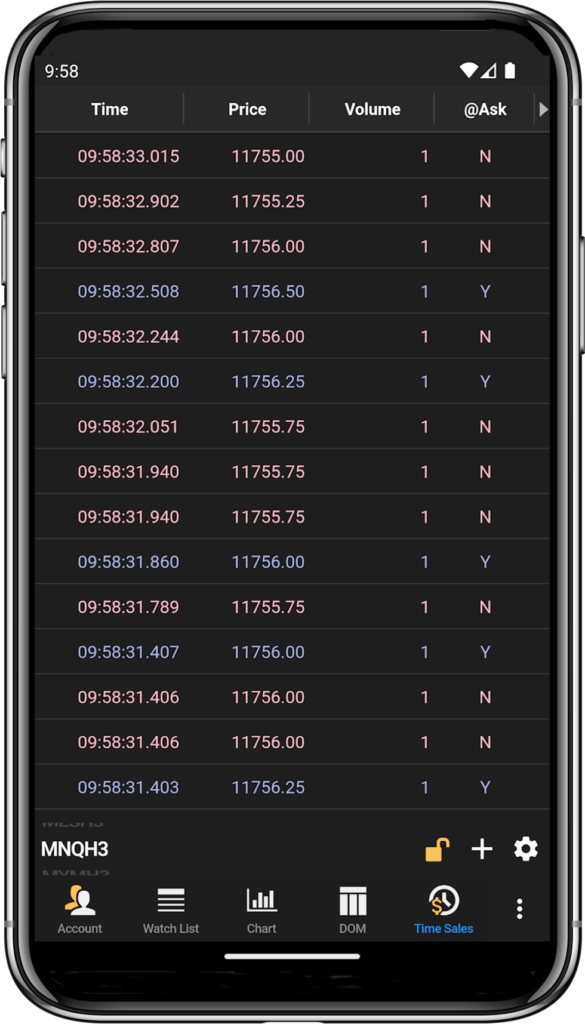 *available features will depend on edition
6 Supported Brokers
(More brokers may be added in the future)

4 Editions to Choose From:
Binance (not available for iOS)
CQG
Kraken (not available for iOS)
OANDA
Rithmic
TD-Ameritrade
You Can Have Multiple Brokers and Data Feeds in One Workspace
Community (free) – simulated trading only

Standard

Order Flow

Professional
Trend Line, Horizontal and Vertical Line
Channel, Price and Time Labels, Time and Price Range, Cycle, Time Cycle
Fork, Modified Schiff Fork
Support and Resistance Areas, P&L Calculator/PL Targets
Wedges, Angles, Curves, Regression Tools, Arrows, Circles, Triangle, Quad Polygon, Sine Wave
Quadrant Lines, Tirone Levels, Speed Lines, Cross Line
Callouts (Balloon, Line, Box), Annotation, Note, Comment, Ellipse, Boxes, Arrows, Shapes, Numbers, Letters
Fibonacci: Retracement, Extension, Expansion, Circle, Arc, Fan, Regression Tools, Customizable Ratio Presets
Multiple Chart Bar Types: OHLC bars, HLC bars, Candlesticks, Trend Candlesticks, Hollow Candlesticks, Heikin-Ashi, Percent Change, Line, Square Line, Bars, No Bars
Non-Linear and Second-Based Bars: Tick, Range, Renko, Hybrid Renko, Volume, Point & Figure, Reversal, Second-Based Bars* (*Requires Historical Tick Data)
170+ Built-in Studies/Indicators
Indicator on Indicator: Use one indicator as an input for another
Chart Linking:

Link Instrument – All charts have same instrument
Link Bar Size – All charts have the same bar size

Time Frame Visibility Options: Time frame visibility enables you to specify the bar sizes where a component is visible. For example, show a Trend Line only on bar sizes smaller than or equal to 1 hour.
Order Flow Tools and Studies
Volume Profile and VWAP Studies
Order Flow Studies: TPO, Volume Imprint, Depth of Market, Bid/Ask Volume, Order Heatmap, Big Trades, Delta Volume, Cumulative Delta
TPO and Volume Profile Components
Time and Sales
Bull/Bear versions of:
Gartley, Butterfly
Crab, Deep Crab
Bat, Alternate Bat
Shark, Cypher
AB=CD, Alternate AB=CD
5-0, 3 Drives
The MotiveWave Mobile Trading App is available to download: