My Motive installation seems to get hung when I try to quit the program. It remains in the "Force Quit Applications" list, and I'm unable to reopen the program without restarting the computer. This is preventing me from becoming a paying customer and motivewave support just sent me here.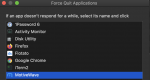 Even though the application appears to still be running, I can't seem to find the MW process in the terminal when I list processes with:
"ps -ef | grep MotiveWave"
or
"ps -ef | grep java".
Any ideas on how to fix? This bug basically makes MotiveWave almost unusable as I cannot restart my computer whenever I quit.
Java Version:
java version "1.8.0_60"
Java(TM) SE Runtime Environment (build 1.8.0_60-b27)
Java HotSpot(TM) 64-Bit Server VM (build 25.60-b23, mixed mode)
OS X Catalina 10.15.6
Motivewave version 6.2.4
Last edited: